Ringostat call tracking
Calltracking is a service for analyzing incoming calls from various advertising sources.
Type of call tracking:
Static - used for simple advertising campaigns. You purchase our sip numbers and call tracking system, and assign each number to a separate advertising source (for example, one number goes to TV ads, the second to billboards, the third to the site). Using our system you clearly see the effectiveness of each advertising channel, and listen to the records of all calls.
Dynamic - thanks to the smart number swapping system, each user is assigned a separate number. This is indispensable for online advertising, as part of the work with the system allows you to trace the entire path of the client - down to the keyword that worked in your advertising campaign.
Mixed - a combination of the first two types of call tracking. It is used if simple information is available on one advertising channel, and detailed and detailed information is needed on others. Due to the use of mixed call tracking you can significantly save on sip-numbers.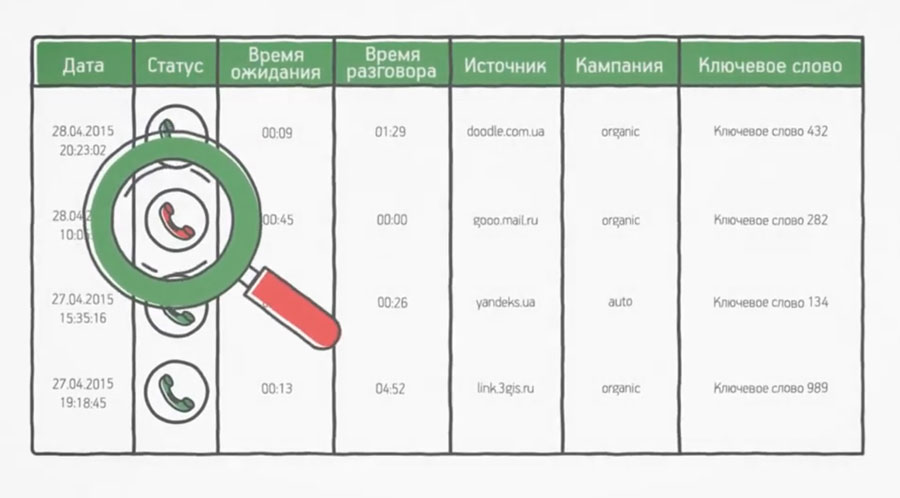 What call tracking will give you:
Analysis of calls on advertising channels, evaluating the effectiveness of each channel for building and constantly adjusting marketing strategies
Keyword rating: Find and sort the best keywords your user is responding to
Call center load control: now you can easily understand what days of the week and hours your sip numbers and employees are most loaded with calls
Call recording: understand the reasons for customer failures, evaluate the work of managers
In conjunction with our PBX Ringostat personal approach to the client
Weight of phone calls in sales:
According to 63% of managers, a telephone conversation with a customer is the most effective way to convert to sales
Compared to simple applications from the site, live "voice" communication with the buyer statistically gives 10-15 times more profit
Premium \ luxury segment: according to statistics, from 90 to 100% of expensive goods and services are sold precisely by phone
Depending on the type of business activity, 30% to 100% of sales in the world are made by phone calls
The cost of call tracking is from 1519 UAH\month.
Do you want to know more or have you decided to enable call tracking? Contact our managers!